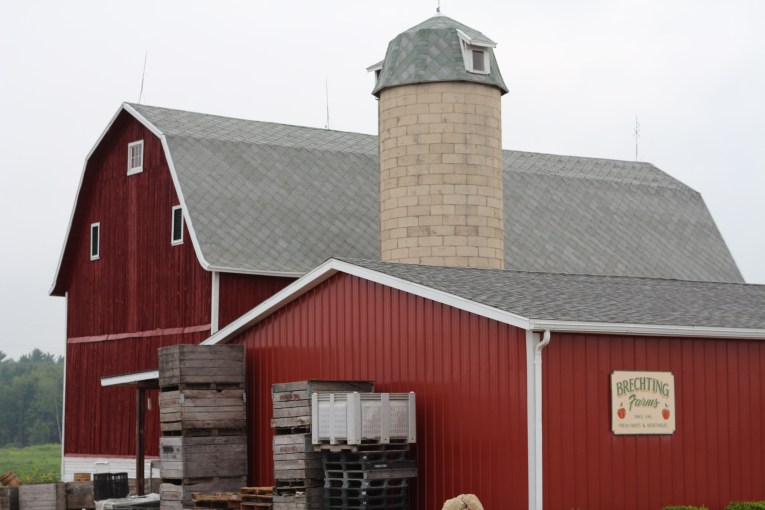 It was a cloudy Tuesday in West Michigan and I was headed for the "Ridge" to explore the country roads leading to beautiful family farms when I stumbled upon Brechting Farms at 1307 6 Mile Rd, NW in Comstock Park.  Fruit Ridge is a topographical land feature northwest of Grand Rapids, Michigan and considered to be an agricultural mecca.  The area is known for its abundant fruits and vegetables, scenic rolling countryside, farms & farm markets, greenhouses, buffalo farms and historical sites.  The setting was a pure old-style farm as I pulled into the gravel driveway of this family farm, it was breathtaking and exciting seeing the 1868 red barn and stone silo.
Walking into the Brechting's Farm Market, I was greeted with smiles, handshakes and saw a group of customers loading up their baskets with fresh corn, melons, beans, peppers, and tomatoes!  My eyes were popping with all the bounty in the market bins and the vibrant colors of nature.
As I was reading the chalkboard market signs and viewing the reasonable produce prices, I happened to see a row of large wooden framed photographs gracing one particular wall - a true sign this was a generational farm and the owners were proud parents of the five children in the photos - each child was photographed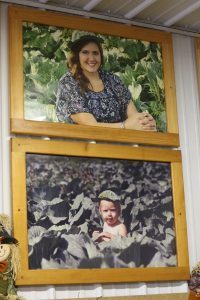 in a particular crop (cabbage or pumpkins) as a toddler and then the same child sitting in a similar crop as a young adult.  Warmed my heart.
After a few minutes of taking in all the aromas of the ripening fruit and melons, I was greeted by a gentleman who wanted to show me "the best view of the farm".  I anxiously agreed to follow him as he guided me to my first introduction to his farm and his family history.  Meet Martin Brechting.  A true Michigander who is very proud of his Centennial farm.  To be designated as a Centennial Farm, a property must be a working farm of 10 or more acres that has been continuously owned by the same family for at least 100 years.  When Martin started off his farm tour by standing me next to the metal storm drain that had 1868 embossed on it….I knew this was going to be a farm tour to remember!  Farmers who are passionate about their farms, the farming business, and the traditions they keep and still live by always have the best stories, and I love to hear them.  Stories about who they are, how they came to be farmers raising their families in what has to be a difficult and demanding business - these are the salt-of-the-earth people who anchor a community and help us connect to each other, help us to thrive together.  Martin was eager to share his stories with Eat Local,West Michigan.  He told me he treats all his customers like they are family and once they learn his family's stories and the history behind the nearly 150 year-old barn, they become lifelong customers.  Some families have been coming to his family's farm for over 40 years - talk about word of mouth marketing!  Martin's enthusiasm was abundant.  His energy was contagious and even though we had just met, his warm welcome made me feel like part of his family already.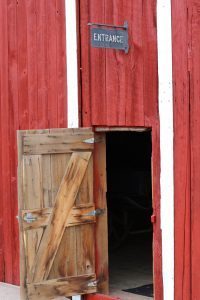 Martin guides me into the barn through the so-called 'elf door'- was his grandfather really this short, I wonder?  Already excited about this year's upcoming holiday season,  he tells me how the whole family comes each year to celebrate at the Brechting Farm (another family tradition).  Martin and his family adorn the farm with Christmas decorations - freshly cut pine trees decorated with family ornaments, white lights streaming, scents of hot apple cider and (aha!) stories of how Santa's elves use the door to help the big guy get presents ready for Christmas morning.  Once I entered into the two story 1868 barn the history started to come alive in my own mind.  Everywhere I looked there was a token representing a story that took nearly 150 years to unfold.
Hanging on one long beam was a row of  horseshoes from the late 1800's that Martin had found on the farm; along another wooden beam was the
family's original wooden sleds….all five of them in a row!(Martin was one of 9 siblings in his family…can you imagine the fun and mischief 9 kids can get into?)
Everywhere were starters for stories Martin wanted to relate.  All were fascinating, and he knew them all the way back to his great-grandfather's era.  What deep roots! Pulling open the double doors of the barn, he gestures grandly at his 120 acres of bounty and awed me with stunning variety of crops Brechting sows each year.  Martin explained that his most loyal customers are Bosnian descent immigrants; they come weekly during harvest season to reap a particular type of pepper; also the cabbages and potatoes.  So for those of you (and me) who weren't aware, back in the early 2000's (2004-2006) Grand Rapids took in over 16,000 Bosnian refugees.  Southern Kent County is home to the nation's second largest Bosnian population, with as many as 14,000 people spread between Grand Rapids, Wyoming and Kentwood. Only St. Louis, Mo., has more.  Martin's family caters to the Bosnians, learning through the years what veggies they prefer.  In return his family gets presented with many offerings of traditional recipes (such as Golumbki, a cabbage, potato and beef dish with a creamy tomato sauce).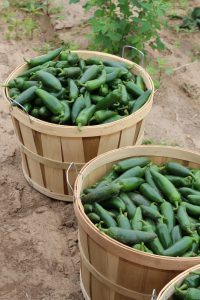 If you are a little puzzled as to why peppers, join the club!  Martin grows 8 different varieties of crops just in peppers alone, not just for the Bosnian families, but Mexicans and Nepalese immigrants as well. His farm supplies this niche market very well, and year after year, he grows their favorites; sweet peppers, poblanos, habaneros, jalapeños, and of course, sweet corn.  Flavors of the home country, grown right here in Michigan.
As we bounced around the fields on his trusty golf cart, saying hello to many of his customers diligently filling their farm baskets, Martin stopped at many of the different types of peppers, snapped off a colorful pepper from the healthy plant and had me taste the amazing flavors. Talk about fresh - literally plant to mouth! Row after row, dirt mound after dirt mound and huge compost piles ripening in the back 40, I could smell the fresh cabbage rows, the sweet pepper aromas and the ripening golden delicious apples.  Martin tries to keep his crops as natural as possible with minimum pesticide sprays.  He does not use any livestock manure on any crops, only plant based mulch.
The best part of this amazing family farm is that anyone can come and pick what they want, when they want it from these bountiful fields. 
If you don't have the space, time or gumption to grow your own, the Brechting Farm has 120 acres of gorgeous vegetables and fruits to pick yourself — or call ahead and they will pick it and have it ready for you!  The farm market is typically open starting the first weekend in August and has produce all the way up to Thanksgiving. You can choose among green beans, tomatoes, 8 varieties of peppers, cabbage, cauliflower, broccoli, summer and winter squash, zucchini, potatoes, eggplant, cucumbers, kale, brussel sprouts, sweet corn, wonderful pumpkins, apples and shiro plums.  Their market partners with several other area family farms, - some are relatives, Martin says with a wink - and also offer Red Haven Peaches, watermelons, cantaloupe, honey, apple cider, maple syrup and delicious apple cider donuts (only during the fall season).  Don't let the next couple of  months come and go without stopping by this hidden gem of a U-pick farm and market!  Tell Martin you heard about his farm through Eat Local, West Michigan and he might just share a family story as you pick your bushel of apples and sip on local cider.
You can contact Brechting Farms by contacting (616) 784-0771.  Hours are 9am to 6pm.
Go out and explore West Michigan by visiting more local U-pick family farms this harvest season!  Eat Local, West Michigan has compiled a list of more U-picks you can use as your road map:  www.eatlocalwestmichigan.com/2013/07/20/where-can-i-find-you-pick-farms-in-west-michigan/
Another great resource is printing out the Fruit Ridge Country Market Guide which lists many local fruit farms in the Ridge area (North Kent County):  www.fruitridgemarket.com/farm-markets