Shorter days and changing leaves means that fall is upon us. This season is also the best time to find fresh Michigan apples. Few experiences can top making a trip to the local apple orchard, drinking some fresh-squeezed cider while consuming freshly baked apple spiced donuts, and taking home a peck of U-pick Honeycrisp.
Some impressive stats about Michigan apple crops:
There are 825 growers in the state, overseeing 35,500 acres of orchards, with 11.3 million trees in the ground. Nearly 1 billion pounds of apples are harvested in a 3 month window.
Apples remain Michigan's most valuable crop. Michigan is the third largest producer of apples in the United States, behind New York and Washington (#1).
Nearly 900 farms in 24 Michigan counties produce 840 million pounds of apples each year, contributing $400 million to $500 million to the state's economy.
Approximately 16 varieties of apples account for more than half (56 percent) of the total fruit grown in Michigan.
A missing apple stem is an injury to the apple.
All apples are hand picked and 1 worker can pick 20 bushels (one large orchard crate) in 45 minutes.
All the apples for an entire year are picked, BY HAND, in a 7 week harvest season.
When an apple falls on the ground at an orchard or apple farm they are considered "bad" and aren't allowed to be picked up and sold.
Apples are grown pretty much everywhere in the lower peninsula, with 70 percent of production happening in the Fruit Ridge, a growing region that's about eight miles wide and 20 miles long, covering 158 square miles of land in portions of Kent, Newaygo, Muskegon, and Ottawa counties. It's centered near Sparta, Michigan.
5 Fruit Ridge Apple Orchards in West Michigan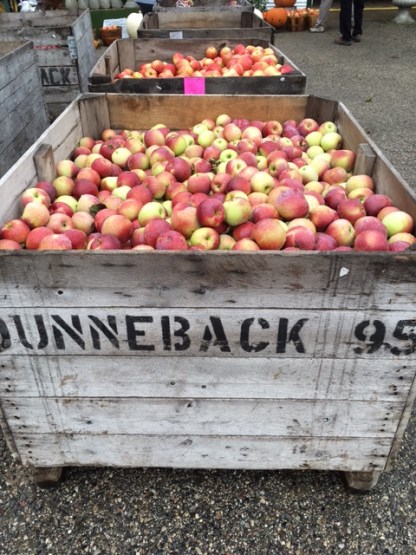 Ed Dunneback & Girls Farm -  3025 6 Mile Rd NW, Grand Rapids - Mon-Sat 9am - 6pm, Sun 11am to 6pm.
A beautiful third and fourth generation fruit farm located on the northwest side of Grand Rapids, Michigan, just 10 minutes from downtown. You don't come across too many local farms where there is a pink John Deere tractor and a pink pick-up truck in their front entrance but these are landmarks at The Dunneback farm.  The Dunneback Girls pride themselves on growing great fruit and veggies, specializing in apples, sweet cherries and strawberries.  Edwin Dunneback started Ed Dunneback & Sons in 1922.  The original farm was 160 acres.  Today you can visit the farm and experience a great
fall orchard day with Upick apples and pumpkins.  Their farm store is filled with seasonal produce, a varietal of freshly picked apples, fresh apple cider and a cafe/bakery for lunch and ready to bake take home pies! Don't forget a dozen of their fresh baked donuts. Oh My! The farm is family friendly with a 5 acre corn maze to have fun and get lost in. Bring the entire family for a fun-filled afternoon on the orchard and farm.
Schwallier's Country Basket - 1185 9 Mile NW, Sparta - Mon-Sat 9am - 6pm, Sun 11am-6pm
Phil and Judy Schwallier and their 5th generational fruit farm raised all four of their kids on the property.  They specialize in over 15 apple varieties, including Ginger Golds, Paula Reds and the popular tart and juicy Honeycrisp.  Fall just wouldn't be the same without a trip to their farm to find the perfect pumpkins for your jack-o-lanterns and home decorations.  Browsing through their fun and tasty farm store is a must - allow time for shopping and stocking up on your fresh cider and donuts for the weekend festivities.  Your kids will love the farm animals; baby goats, chickens and bunnies!  Children can take a ride on their fun cow train, or the whole family can head out to enjoy scenic views of their orchards with a guided wagon ride. There's fun for everyone at Schwallier's Country Basket.
Hill Bros. Orchards & Cider Mill - 6159 Peach Ridge NW, Grand Rapids - Mon-Sat 9am-6pm
Hill Bros. Orchards has been family owned since 1843 by James and John Hill.  They specialize in Award Winning apple cider that is made on the farm - talk about fresh!  The cider is UV treated (ultra violet light), with no preservatives.  Sold in 1/2 and gallon sizes now thru January.  In off season you can still stop by their farm market store to pick up gallons of their cider frozen! The orchard offers over 15 varieties of Michigan apples which are available to purchase in their farm market.  They do not offer U-pick options.  Don't forget to pick up a jar or two of their private labeled jams and jellies when stopping by.
Steffens Orchard Market - 4344 13 Mile Road NW, Sparta, MI  11am - 6pm Tues - Sunday
The Steffens family arrived from Germany in 1846 and settled in Alpine Township in 1852.  The parcel where the farm market is, was purchased in 1983.  It is located in Sparta Township and there wasn't an apple tree on it when it was purchased. The existing barn is over 100 years old and was refurbished in 2010. It has beautiful hand-hewn beams inside.  The barn is where Rob and Christine love to teach children about the life cycle of apples and pumpkins. The family farm operation is currently operating 300 plus acres of apples, many varieties available that you can U-pick or purchase in their family market.  There are so many fun things to do on a farm at Steffens Orchards. You can take a walk out to the orchard to pick your own apples or to the pumpkin patch to pick your own pumpkins. They have a swing set and a wooden tractor with a wagon that you can play on and is great for pictures. After picking your own apples you can visit the market for snacks and beverages and have a picnic on the farm. They have several picnic tables available.
Snappy Apple Farm Market - 961 Newaygo Rd, Casnovia, MI  10am - 5:30pm (Closed Tuesdays)
Snappy Apple has been satisfying customers over 60 years. They proudly offer over 15 varieties of crisp, juicy apples. Their farm market overflows with fresh fruits and vegetables in season, cider, honey and maple syrup, produced locally for that fresh farm-to-fork flavor.  They are well known in the local area for their juicy caramel apples and cider slushies - not to be missed when driving around the area.  Repeat customers return every apple season to pick up a couple containers of Sanders caramel fruit snack dip.  New flavors this year - peanut butter caramel and chocolate peanut butter. Yes please! Lots of pumpkins to choose from for your family-night of pumpkin carving and apple pie making bonding time!