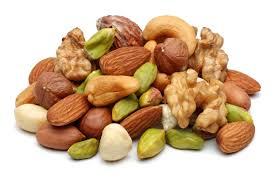 Nuts are one of the most amazing foods on the planet. They are loaded with fiber, nutrients and heart healthy fats. They're void of sugar and contain minimal carbohydrates, and best of all, they taste heavenly.  Did you know cashews are in the same plant family as poison ivy and poison sumac and their itchy oil is contained almost entirely in the shell of the nut? That's why you find cashews sold out of the shell. Once you get past the shell, go nuts! Bet you wouldn't guess that the pistachio fruit (yes, it's actually a fruit) and the vegetable kale have a lot in common. Why? Because they're both green! Pistachios get their green color from the same pigment (chlorophyll) that lights up your spinach, kale and other fabulous plant based foods.  Walnuts enjoy a distinction like no other — they are the only nut that has omega-3 fatty acids! Guys, stop throwing the big Brazil nuts out of the nut mix you're buying! Brazil nuts are high in selenium, a mineral that has been found to be effective in the fight against prostate cancer.
Michigan has some excellent nut roasters who offer a great variety to choose from.  Looking for a gift for your Valentine?  Great nut gift packs are available and added bonus, most of the companies are also confectionery suppliers so go NUTS with chocolate covered almonds, toffee pecans or best yet….homemade turtles with nuts, caramels and chocolates! Yum!
Go Explore These Michigan Nut Roasters:
Ferris Coffee & Nut Co. -  227 Winter Ave NW, Grand Rapids  Online ordering available! http://www.ferriscoffee.com/nuts-more
A family-owned and operated company with a heritage that dates back to 1924. They strive to provide the highest-quality plant-grown food products available.  Ferris's dedication and attention to detail has given them a reputation for consistently producing high-quality nuts. They don't cut corners nor compromise their process. They only source, roast, and package nuts that meet our standards, as well as the expectations of our customers.  Go visit their retail store in Grand Rapids where you can choose from a variety of nuts and amazing chocolate gift packs as well as healthy trail mixes with Michigan dried cherries in them.  Plan ahead and you might be able to go on one of their tours of their facilities.
Koeze Company - RETAIL STORES: 1971 East Beltline NE, and 2577 Burlingame Avenue, Grand Rapids
Koeze Company was founded in 1910 by Sibbele Koeze, as a wholesale grocer selling produce, butter, and eggs to small stores around Grand Rapids. His son, Albertus Koeze, took over the business about 1918. In 1925 Albertus purchased a local peanut butter company, and from then until today peanut butter and roasted nuts have been part of Koeze's.  If you haven't tried Koeze's Cream-Nut peanut butter you are missing out on the most amazing peanut butter and jelly sandwich!  A fun shopping experience to go sample and pick out your favorite roasted nut mix and a box of their handmade Koeze Turtles.  Their retail store is always decorated so nicely with plentiful gift ideas.  A local favorite for sure!
Heilman's - "Nuts to You from Kalamazoo" - 1804 S. Westnedge Ave, Kalamazoo Online Ordering Available -  http://www.nuts2you.com
Heilman's Nuts & Confections has been a tradition since 1988, both locally and abroad. Heilman's continues to ship products worldwide, with the goal of mouth-watering gourmet nuts and confections with guaranteed freshness.  Heilman's carries many different kinds of nuts. In cooking their nuts they only use the finest nutmeats. Each batch of their nuts is freshly roasted in cholesterol-free corn oil, and is lightly salted according to their secret recipes. Whether they are cooking, roasting, or packaging, each product that is served at Heilman's is cared for during preparation and presented with perfection. Lots' of great gift box options…..and don't forget to pick up their homemade nut brittle!
Detroit City Nut Company - "So Nutty" - 22609 15 Mile Road, Clinton Township
  Online Ordering Available http://www.detroitcitynut.com
Detroit City Nut is deeply rooted in the fabric of this region as immigrant grandparents who spent years in a Siberian labor camp and survived were attracted by the auto industry and the opportunity to live a better life. Over 70 years ago, Michael's grandfather (Rocco Russo Sr.) drove his truck into the south to bring back to his Eastern Market customers the finest tree nuts and produce. Detroit City Nut understands the importance of buying from high quality sources. They bring you as close to the source as possible with the best quality products at the most competitive prices.  Check out their whole organic line of nuts, dried fruits and seeds.
Germack Pistachio Company - 2509 Russell Street at Eastern Market, Detroit                 Online Ordering Available - http://www.germack.com
The Germack family began roasting nuts and seeds in Detroit's historic Eastern Market in 1924. Known for their dried fruits, chocolates, nut butters, specialty nuts and seeds. Germack products are selected from the finest growers around the world. Raw goods are delivered to their roasting facility in Detroit's Eastern Market, where they are roasted and blended in small batches to their optimal temperature and roast time. One of their more popular mixes is their Honey Nut and Toffee Mix.  Can't make up your mind between all their delicious products then consider a gift card for your loved one's this Valentines Day.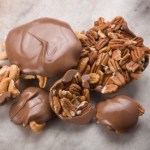 Sayklly's - 1304 Ludington Street, Escanaba   Online Ordering Available - http://www.sayklly.com
In 1906, a young Lebanese immigrant named Joseph Sayklly pursued the American dream by opening his own shop on Ludington Street in Escanaba in Michigan's Upper Peninsula. Sayklly's carried a small line of groceries, including homemade candy and ice cream. Blast forward to today with a family landmark that all locals know to patron for their favorite chocolates, candies and nuts!  They surely won't tell us their secret recipes, but they promise their customers that Sayklly's candies and chocolates are made with premium ingredients that will make your taste buds very happy. Sayklly's uses only premium ingredients. You know a good confectionary maker if they still use big copper kettles and hand-dip their chocolates, and they still do just like Joe Sayklly did when he started the business in 1906. Yooper Bars, Whopper Snappies and Chocolate Covered Potato Chips can accompany your freshly roasted cashews and peanuts.  Instantaneous smiles!