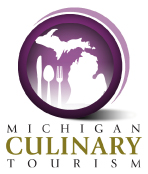 When my husband and I got married nearly five years ago, we chose to not spend our honeymoon somewhere warm, or tropical, or even very far away. We decided to drive up to Black Star Farms and spend the week enjoying the scenery and libations of Leelenau Peninsula and Old Mission Peninsula.
We spent our days (and a lot of our wedding gift money) at the various wineries, our trunk looking like a rum runner's by the end of the week. Even now, we try to get back at least once a year to do a tour de Traverse City.
Apparently we're not the only ones who appreciate what Michigan has to offer-there is a new Culinary Tourism Conference that will be held at the Kellogg Hotel and Conference Center in East Lansing on January 10. I can't wait to see what they come up with!
In the meantime, if you'd like to learn more about the wine country of Michigan, check out www.michiganwines.com.
Do you have a favorite culinary vacation spot?