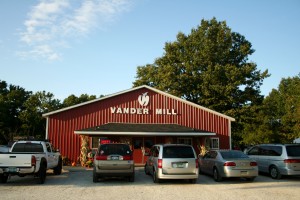 You wouldn't expect fine dining amid apple trains and candlesticks, but Vander Mill Cider's commitment to local food comes through loud and clear in a limited but gourmet quality menu.
Owner Paul Vander Heide had been wanting to serve food at the location in Spring Lake, but wanted to do it right. No freezer to fryer, with an emphasis on fresh and local. Then as fate would have it he happened to run into Lucas Grille, former manager of the 1913 room, who was looking for something to do while setting up his own restaurant which will be in Zeeland. Grille came up with a menu that fit the bill.
As food has only been available for a couple of weeks, the waitstaff is still working out the kinks. They wandered around the tasting room/sales floor/outdoor dining area before figuring out that we were the ones who had ordered the butternut bisque. We told them that we had sandwiches coming too. Unfortunately they repeated their path. Luckily it was just sandwiches, so it wasn't going to be getting cold.
It was worth the wait.
The bisque was perfection. Not too sweet, seasoned just right, and the doughnut slice "crouton" was a most adorable touch.
When my husband opened up the bun to apply the sauce, he was astonished to discover real tenderloin, cooked the appropriate time. He let me try a bite and I couldn't believe how tender it was. The Tenderloin came with an apple and a few more of those doughnut slice croutons.
When I first received my sandwich, while my husband was drooling over his tenderloin, I noticed right away that it was actual turkey turkey, not sandwich meat. Wow. The slaw paired nicely with the sweet & tangy mustard (which, incidentally, is for sale along with many other condiments). It would be the star of any restaurant downtown, and my husband and I commented to each other that if it was downtown we would be paying a lot more for it and not even blink an eye.
Of course, our meals were washed down with some of Vander Mill's spiced hard cider.
If you visit Vander Mill's, you should know that it is kid-friendly. They have activities, including the apple train: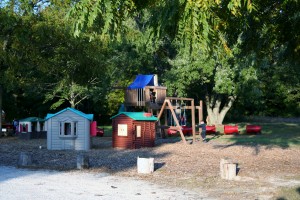 Also, if you want something hot to eat, Standard Pizza & Co. is sometimes there on weekends serving up such creations as the Vander Pie: Sausage, Crispy Pancetta, fresh mozzarella and asiago cheeses, baby arugula, sliced honeycrisp apples, all on top of a crust slathered in Vander Butter (garlic and herb).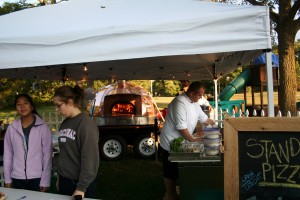 In summary, if you're looking for great food, you don't have to head downtown-head on over to Spring Lake.