When Wendy asked me to write about a kid-oriented place along Kent Harvest Trails for Eat Local! West Michigan, I immediately thought of Koetsier's Greenhouse.  They are one of the only places along the Kent Harvest Trails that is mostly indoors and geared toward the younger set (ages 10 and under.)  This is the place to go on Fridays or Saturdays through the end of October, Rain or Shine!
With a not-so-spooky maze, pedal tractors, paint-a-pumpkin and a Bumble Bee Express ride, your kids will be entertained (and dry!) for hours.  They do have a hayride that highlights their on-site beehives (they have their honey available for purchase) and gives kids a glance at their egg-laying chickens and pet goats.
They have partnered with Engelsma's Apple Barn to offer fresh cider and also have a wide variety of apples available for purchase.  They also have a concessions area in their play area.  Popcorn and coffee are free.  Cider and donuts are available for purchase.  While we were there we got the cider sippy cups- they come in pumpkin or apples and are so cute!  My kids loved them and we'll be using them throughout harvest season, I'm sure.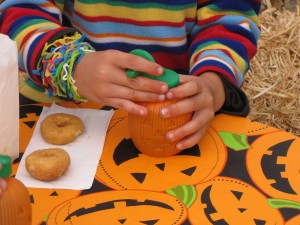 Plan for your family visit to Koetsiers to take 2-3 hours.  Admission to the play area is $6 per child ages 2 and older.  It's $3.50 for kids 13-23 months and free for those 12 months and under.  Admission includes unlimited play time, pumpkin painting, popcorn, a Halloween tattoo and a prize.  Extras include a hayride ($3 per person, 25 minutes, includes an apple and pumpkin for the children) and the Bumblebee Express ride, $2 per child.
The play area and hayride is open to the public Fridays (9-6) and Saturdays (9-5).  Groups are scheduled by appointment on other days of the week.  Call (616) 949-7299.
About the Author:
Since 2009, former teacher Melody VanderWeide has kept the pulse on local Grand Rapids kid & family activities at GRKIDS.com, GR's Online Family Guide.  This local website features an extensive event calendar, blog, and active facebook page, as well as a social savings program (PERKS) for families.  Melody is mom to 3 delightful kids and encourages families to spend their free time exploring and playing together in Grand Rapids.  When she's not driving carpool you'll find her on facebook or lurking on twitter @grkids.