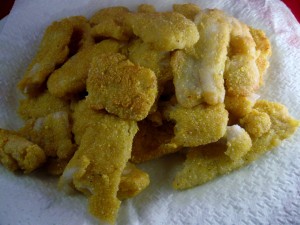 This weekend is a great opportunity to try fishing for FREE! All fishing license fees will be waived for two days, February 19 and 20, 2011.
I have fond memories of ice fishing when I was a little girl. I'd bundle up, my Dad and I would stop at Gillet's for some waxworms, and we'd head out to the lake. Sometimes he'd even let me try to chip through the ice with the spud. If the fish weren't biting, I'd get bored and cold real fast. If they were biting, I could stay out there for hours. I would watch the fish on the ice, and put them in the bucket before heading for home.
My Dad would fill the sink with water and put the fish in there to thaw; as they warmed up the fish would start flopping around, much to my and my sisters' delight. That night we'd have fried fish for dinner.
Why not make some memories of your own this weekend? Here's a recipe for pan-fried fish from my other blog.
For complete details about Free Fishing Weekend, check out the DNR Website.
With the warm weather expected, be sure to brush up on ice fishing safety.