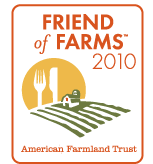 American Farmland Trust's inaugural Dine Out for Farms™ is a national, weeklong event that will bring together restaurants and consumers to support a sustainable future for America's farms. By dining out, you'll be able to support efforts to help local and regional farms. From October 10-16, participating restaurants will raise funds and awareness for programs that support farms and help save the land that sustains us.
Did you know that the state of Michigan has been losing about 50 acres of farmland per day? Holy cow! American Farmland Trust is the nation's leading conservation organization dedicated to saving America's farm and ranch land, promoting environmentally sound farming practices and supporting a sustainable future for farms. Since it's founding in 1980 by a group of farmers and citizens concerned about the rapid loss of farmland to development, the organization has helped save millions of acres of farmland and led the way for the adoption of conservation practices on millions more.
Let's encourage our West Michigan restaurants to participate! Check out the American Farmland Trust website to find out how you can participate and help to spread the word.