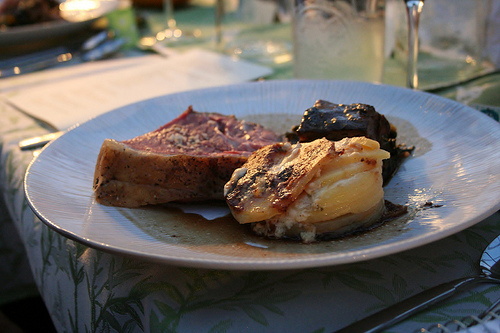 There are lots of posts about where to eat while visiting ArtPrize. But what about those of us who really prefer to avoid the crowds? My husband and I have been known to want to go out to eat but then we say, "ugh, but _____ is going on! We'll never find parking the the line will be a mile long!"
Never fear, the readers of Eat Local, West Michigan have suggested drive-worthy restaurants to help you go out to eat while avoiding the downtown crowds.
If you have a favorite out of the way place, be sure to add it below!
Worth the Drive
Worth the Drive
With Art Prize descending upon us, there are lots of guides for eating downtown. Well, if you'd like to avoid the crowds or just go for a nice drive, here are some West Michigan restaurants with a local flavor.
crowd rank
curated
alpha
newest
queue
On 28th street near Cascade. Farm to Table, yeah!

Bostwick Lake Inn in Rockford near Grand Rapids, Michigan. A Gilmore Collection Restaurant and historic landmark featuring New American Cuisine, pizza, pasta, steak, seafood, wine, hand dipped ice cream, and a patio for seasonal outdoor dining.

reat home cooking, friendly Michigan faces and a comfortable lodge atmosphere in Rockford.

Added by Jesse Kolberg on Sep 20, 2012

The Grill House, Allegan, MI. 826 likes · 26 talking about this · 1,594 were here

Slow Food Snail of Approval. On Alpine at 6 Mile.

The Radix Tavern gallery features the work of local artists. Many are students and alumni of area colleges and universities.

The menu changes seasonally, designed to bring you unique, local flavor combinations to surprise your tastebuds and tickle your fancy... Downtown EGR