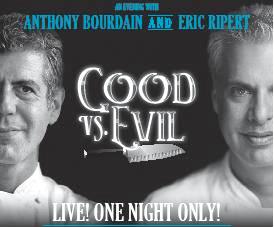 GOOD VS. EVIL: An Evening with Anthony Bourdain and Eric Ripert
LIVE AT DeVOS PERFORMANCE HALL ON SUNDAY, FEBRUARY 19th
Two chefs. Two unlikely friends. Two very different
careers and philosophies sharing one stage.
(GRAND RAPIDS, MI)- Good vs. Evil: An Evening with Anthony Bourdain and Eric Ripert, live at Grand Rapid's DeVos Performance Hall on Sunday, February 19th. Join Anthony Bourdain, chef, author of Medium Raw and host of The Travel's Channel's No Reservations and Eric Ripert, renowned chef of Le Bernardin, author, host of "Avec Eric" on PBS and regular guest on Bravo's Top Chef as they share stories and muse on the place of food in our personal, community and global life. It's an evening of storytelling and observation providing frank and provocative insight into what really goes on behind the kitchen doors.
Anthony Bourdain has been dubbed "the bad boy of cuisine" for his rock star look and blunt observations about the world of restaurants, chefs and cooking. Bourdain, the Chef-at-large at New York's famed bistro Les Halles, is the author of the bestselling novels, Kitchen Confidential: Adventures in the Culinary Underbelly, and most recently Medium Raw: A Bloody Valentine to the World of Food and the People Who Cook. His show on The Travel Channel, No Reservations, has been nominated for an Emmy and recently concluded filming its seventh season.
Eric Ripert's Le Bernardin continues to receive universal critical acclaim for its food and service and the Zagat Guide has recognized the restaurant as the "Best Food" in New York City for the last seven consecutive years. Ripert has also served as guest judge (and "fan favorite") on Bravo's Top Chef for the past four seasons. This past fall, Ripert published his fourth book entitled, Avec Eric: A Culinary Journey with Eric Ripert in addition to his previous titles: On the Line and A Return to Cooking and the Le Bernardin Cookbook.
Tickets go on sale to the public September 16 and range from $32.50 - $125 for VIP packages and are available online at Ticketmaster.com, by phone at 800-745-3000 and all Ticketmaster locations.
A limited number of VIP tickets will be available, which includes premiere seating within the first six rows, access to an exclusive meet and greet session with Anthony Bourdain and Eric Ripert, complimentary hors d'oeuvres, a VIP tour laminate and a limited edition poster. Grand Rapid's acclaimed Bar Divani is pleased to be the Official Restaurant Sponsor of the evening, and will be providing an innovative selection of appetizers for VIP Reception attendees.
Copies of Bourdain's new book, Medium Raw: A Bloody Valentine to the World of Food and the People Who Cook, and Ripert's Avec Eric: A Culinary Journey with Eric Ripert along with other titles from their back catalogs will be available for purchase on site from Schuler Books and Music, the official bookseller for the event.
By: Emily