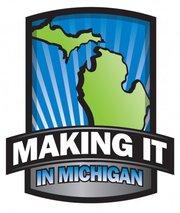 One-Day Event Provides Learning Sessions and One-on-One Counseling With Leading Michigan Experts
EAST LANSING, Mich. – For new entrepreneurs or established food companies thinking about creating and launching that next new food product or idea, the fourth annual Making It In Michigan conference can help bring that concept to fruition.
Hosted by the Michigan State University (MSU) Product Center, the conference is designed to connect budding entrepreneurs and established food businesses with the resources of the center including multiple educational sessions, a keynote address from a nationally renowned expert on the consumer packaged foods industry and the opportunity to network with over 150 vendors of Michigan specialty food products.
Conference attendees will leave the conference equipped with the practical knowledge and industry resources needed to move an idea from the concept stage to a finished and marketable product. Attendees will be able to corroborate and refine business ideas, connecting with industry experts offering insights and tips on managing the common hurdles often encountered by food companies, including food safety, production, working with co-packers, marketing and supply chain issues.
"The conference was designed to help people that have an idea or recipe in their head and thinking about creating a business opportunity from that, but have no idea what to do or where to start in making their dream a reality," states Matthew Birbeck, MSU Product Center's Marketing and supply chain specialist. "Especially considering the state of Michigan's economy, support for new and existing small businesses success is critical to the creation of new jobs and sustainability", says Birbeck.
The Making It In Michigan Conference will be held Wednesday, October 19 from 8:30 a.m. to 4:30 p.m. at the Lansing Center in downtown Lansing.

The educational sessions will bring together leading Michigan experts to help guide attendees through starting businesses in the following areas:
• How to Start a Business: Going From Novice to Expert and Pointers for Production
• Nutrition and Wellness – What it Means for the Food Industry
• Getting My Product To Market – Direct Selling to Consumers and Meeting Demand with Production
The keynote speaker will be David Browne, Senior Analyst with the Mintel Syndicated Reports team. David writes and edits reports on the consumer packaged goods industry including retailers, foodservice operators and manufacturers of foods, beverages and household and personal care products. With over 15 years in the natural products industry, his work is primarily focused on the fast-growing natural and organic food market, identifying trends and leveraging them to foster innovation and new product development.
David will focus his presentation on the connection between consumer behavior and attitudes and new natural and organic product innovations that are meeting consumer needs.
Conference participants will also have time to network with this year's featured partner Varnum Law offering legal advice and business help. Awards will be presented to four Product Center clients such as Best Innovative Business Idea from the center's director Dr. Chris Peterson. MSU Product Center innovation counselors and staff members, Product Center clients, business consultants, regulatory officials and food and farming groups will also be available to provide in-depth information and counseling.
The Marketplace trade show in the afternoon will feature over 150 new and existing businesses who will be showcasing their food products to the Michigan Grocers Association, buyers and conference attendees who can taste and purchase items.
The $70 per person conference registration fee includes breakfast, lunch, and educational sessions, digital copies of all presentations and reference materials and admission to the Marketplace trade show.
More information and conference registration materials are available at www.makingitinmichigan.msu.edu. Those interested in attending can also call Greta McKinney at 517-353-7185 or send an email to [email protected]
About the MSU Product Center
Founded in 2003, the MSU Product Center helps Michigan entrepreneurs develop and commercialize high-value, consumer-responsive products and businesses in the agriculture, natural resources and bioeconomy sectors. The Center's statewide network of innovation counselors provide business counseling support to Michigan residents interested in starting or expanding a business or product line.
The Product Center's assistance in launching 174 known new businesses and business expansions has had the following estimated economic impacts:
• Increased annual sales: $309.7 million (cumulative first year sales only)
• Value of increased investment: $228.9 million
• Jobs created: 750
• Jobs retained: 364
By: Sherri Sharp