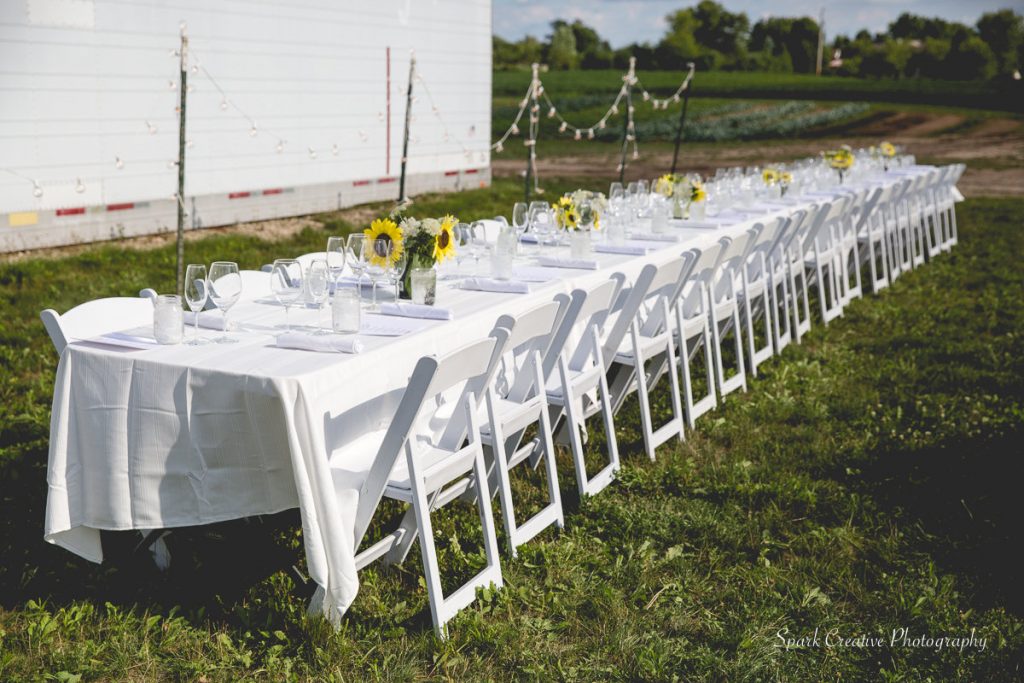 What happens when creativity, passion and farm fresh ingredients collide?  A farm to table dinner event that has everyone talking in the local West Michigan community.  On a beautiful Saturday evening on August 6th, two local chefs and two farmers created a venue in Ada, Michigan that went above and beyond your typical picnic in a local park.  There was no idea left behind.  The white linen lined table, glistening wine glasses, a farm fresh menu and local sunflowers as centerpieces set the stage.  Green Wagon Farm was the perfect setting. Chad and Heather Anderson are the farmers and operators of this 6 year old, small-scaled 11 acre farm located in Ada, Michigan.
Talented Reserve Wine & Food's Co-Executive Chefs; Zachary Pisciotta and Lucas Verhulst prepared a 5 course menu with beverage pairings for each guest.  Both chefs personally come out to Green Wagon Farm to survey the progress on the restaurant's plot of land where they are growing fresh vegetables and herbs for their farm to table menu at their restaurant.  Their passion showed with their attention to detail in each plated dish with flavors that enhanced the farm fresh ingredients with "popping" colors that allowed guests to taste the food with their eyes before consuming.
The evening began with drinks & hors d'oeuvres under perfect blue sky along with a quick farm tour of the hosts; Green Wagon Farm, to set the scene (including a brief visit by the farm's two new
goat kids).  Green Wagon Farm's 11 acres specialize in micro greens, a variety of vegetables and herbs. The Green Wagon Farm offers Community Shared Agriculture (CSA) shares, and encourages volunteering at the farm.
Sitting down to dinner: There were five courses each w/ a beverage pairing, described by Chef Pisciotta to the guests as they were served.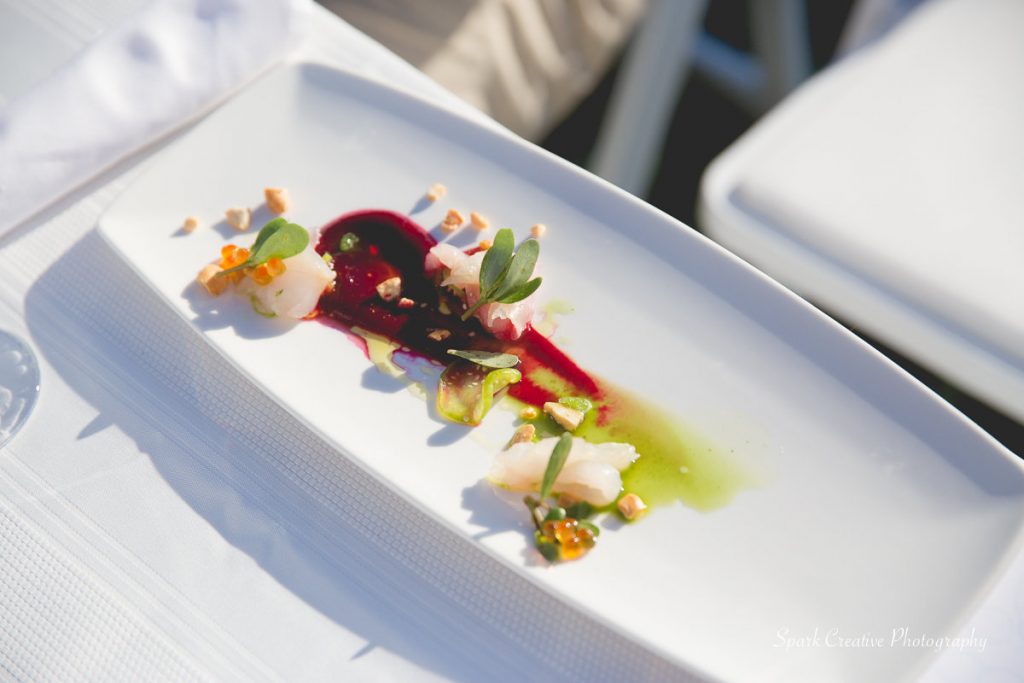 Crudo: black bass, tomatillo, purslane, lemon balm, cashew, steehhead roe and beet paired w/ Graham Beck Brut Rose
Scarpinocc Pasta:  patty pan and costata squash, walla walla onion, fennel, kale, tarragon, sarvecchio, carrot paired w/ Trimbach Pinot Gris
Panzanella Salad:  okra, cucumber, heirloom tomato, charred broccoli, scallion, and sourdough paired w/ Aquavit, Pernod, sugar lime and cucumber ferment
Whitefish:  shishito pepper, radicchio, macadamia and sweet corn paired w/ Brengman Brothers Dry Gewurztraminer
Lamb:  spelt, white cipollini, cauliflower, plum, lavender-thyme tea and smoke paired w/ Bula Monsant
All courses showcased produce from Green Wagon Farm.
Some really unique pieces-corn husks cooked down to their sugary shadows and a refreshing punch featuring costada squash!
Farmers sat among community members sharing deep rooted stories and making valuable connections while seated along the white linen table. With each course, people warmed up to each other while connecting the farm to their palates, plate after plate. There couldn't have been a prettier setting all while absorbing the art of eating at its finest.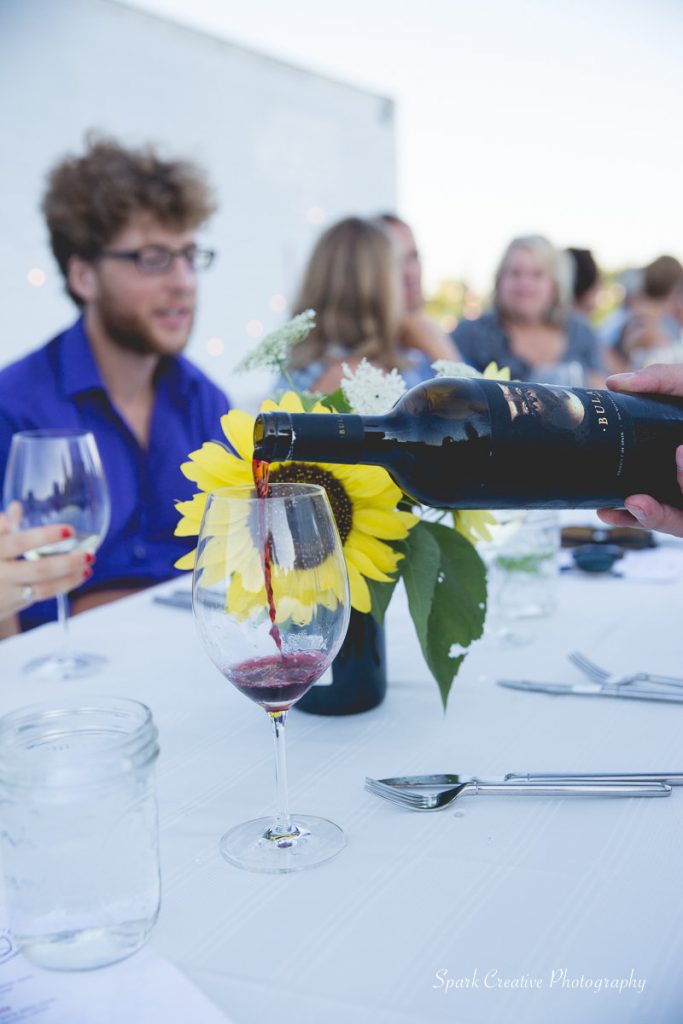 Green Wagon Farm has been working closely with Reserve this season in an intimate capacity. Chefs Zach and Lucas have been to the farm numerous times and worked alongside the farmers and their crew and harvested some of their own crops which is a growing trend in the West Michigan agriculture community.  Reserve is also participating in Green Wagon Farm's Restaurant-Supported Agriculture program which allows chefs to dictate what is grown and have a stake and understanding in the process of farming. They rented 3 beds from the farm this season. Harmony Brewing in Eastown is also participating in this program this season.  Hopefully we will hear about more local chefs, restaurants and breweries joining in these local RSA's and by joining local farmers to make a difference in our local food system.
Stay on the lookout for Green Wagon Farm events.  Eat Local West Michigan has their radar on! Their plans are to host a couple more concerts this season as part of their FieldNotes Series and perhaps one more dinner! You can keep up with Chad, Heather and their crew by liking their Facebook Page: http://www.facebook.com/greenwagonfarm2010
Photo credits:  Rose Petrowski of Spark Creative Photography.
www.sparkcreativephotography.com
Facebook: www.facebook.com/sparkcreative