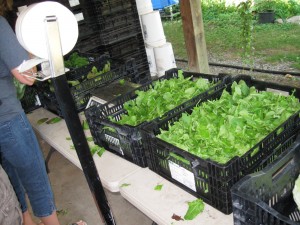 Act now if you'd like to try a CSA, or Community Supported Agriculture, this summer. With Trillium Haven Farm, one of the largest area CSAs, taking a sabbatical this year, many are expected to fill up fast.
Chances are, if you have participated last year, you already have a down payment on the upcoming season. But if you haven't taken the plunge yet and have been thinking about it, now is the time to give it serious consideration. Not sure if a CSA is right for you? Check out the Top 10 Questions to Ask Before Joining a CSA.
In West Michigan, we are blessed to have so many great choices. In fact, I started making a list and realized it would be way easier to just link to websites that have the lists already put together.
These include:
Eat Well Guide: Nice website, not real complete for West Michigan though.
Greater Grand Rapids Food Systems Council: Download the West Michigan Fresh Local Food Guide, which includes a list of farmers' markets, farm stands, grocers and specialty stores carrying local food, as well as restaurants. It was last updated in 2011 and includes some of the smaller places not on Local Harvest.
Local Harvest: Seems to be the most up to date and reliable. Bills itself as America's #1 organic and local food website, which includes "a definitive and reliable 'living' public nationwide directory of small farms, farmers markets, and other local food sources. Our search engine helps people find products from family farms, local sources of sustainably grown food, and encourages them to establish direct contact with small farms in their local area. Our online store helps small farms develop markets for some of their products beyond their local area."
Various smaller websites exist but those are the ones I've found that have the most complete West Michigan info.
How about you? Are you involved in a CSA? Which would you recommend?