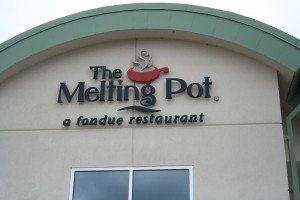 A few weeks ago, my friends Donielle and Katie and I were invited to a networking event at The Melting Pot. What did we three local food bloggers think of it?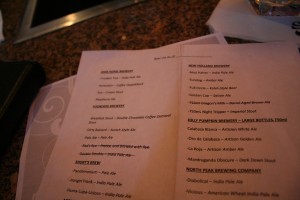 I was pleasantly surprised to discover they had a wide selection of local beer. Unfortunately, their Michigan wine selection was sorely lacking.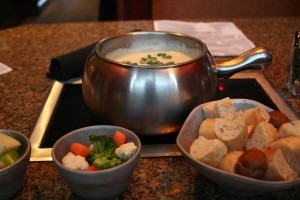 The meal started with a cheese fondue with bread and vegetable dippers. My favorite was the Wisconsin Trio Cheese Fondue with Fontina, Butterkäse and Buttermilk Bleu cheeses with white wine, scallions and a hint of sherry. I wondered if it would be possible for the restaurant to showcase some of our excellent Michigan-made cheeses.
Next up was the main course, featuring ravioli, shrimp, marinated beef, and chicken along with vegetables. I was pleasantly surprised that the meat was of good quality and seasoned perfectly. We asked for more vegetables and they obliged. Again, I found myself wondering if it would be possible to source the meats locally. (Yes, I know, it's an obsession.)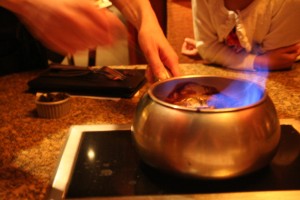 The grand finale was the chocolate fondue, flambéed tableside. Dippers included fresh strawberries, bananas, cheesecake, Rice Krispies Treats®, marshmallows, pound cake and brownies.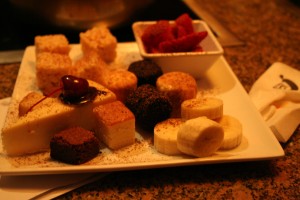 My favorite was the strawberries, I could have done without the sweets and just used fruit for dippers.
Overall it was an an enjoyable experience. I liked the food, although it would have been even better had it been sourced locally. It took several hours, but that's part of the experience you expect when going to the Melting Pot.
The Ladies Night Out experience is only $35 per person and includes mini martinis (which we did not sample as we were being comped our meal for participating in the networking event).
I had gone to the Melting Pot a few years ago with my husband as a special date night, and although it was a bit pricey, we had fun then too. I think of it more as an experience than just paying for dinner.