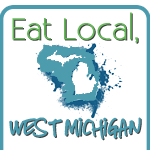 Wow, it's been almost a year already since Eat Local, West Michigan! took its current form. It's been exciting to see things take shape and the local food and drink scene has been growing by leaps and bounds. We have a lot to be proud of. Whenever I talk with friends from other parts of the country, or even friends who have moved away and come back for a visit, I'm reminded of our vibrant locavore scene.
To that end, I would like to invite you to consider being a regular contributor to Eat Local, West Michigan! If you have a passion for a specific topic, please let me know and we can see how you might fit into our yet-to-be-assembled editorial team. If you are interested, please fill out this Google form.
On to the link up!
Natural Living Moms and Eat Local West Michigan will be hosting a weekly link-up every Thursday. So if you blog about local businesses, deals, etc, etc, please feel free to link up below!
*Linky closes one week from today. So if you have other posts coming up in your blog schedule you'd like to link, feel free!

But before you do, let's cover the ground rules. Unfortunately link ups such as this are getting watered down with stagnant traffic. In order to make sure this doesn't happen please make sure you:
Link to a specific, recent post relevant to the West Michigan area. This can include things like reviews, general discussion, tips on buying locally, events, etc.
Link not to your homepage, but directly to your post.
Make sure to include a link to this post! Collaborating with bloggers is a two-way street, we're showing links to your site, make sure you link to this post and let your readers know what it's about. (or simply copy and paste this at the bottom of your post: What to find out more about what's going on locally? This post is linked to the West Michigan Link-Up at Eat Local, West Michigan!, where you can see what everyone else is up to!)
Please publish your post with the above mentioned link to NLM. So going back in every once in a while and adding it isn't a major cause for concern, but y'all…….then the link to NLM never hits your subscribers.
Not mandatory, but if you're looking to help increase the traffic for us local bloggers, read the other posts and share then via social media and sites like stumble upon. That's just good blog kharma that will come back ten fold.